What kind of cash drawer should you purchase to work with Square?
Square introduces more ways to engage with customers. Square now integrates with cash drawers and receipt printers. With a single tap on an iPad, you can open your register's drawer to complete a cash sale or make change. Please read the options below carefully before purchasing a cash drawer.

Option #1
If you are using the Square Register Kit and connecting the cash drawer to the USB port, buy VB554A-BL1616 or our all-white option VB554A-AW1616. PLEASE NOTE: If you are purchasing a receipt printer with a USB interface to connect to the Square stand, the VB320-BL1616 will not work.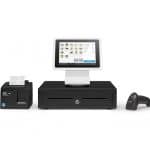 Option #2
If you are using any other Square Kits with a printer the only way to connect APG`s cash drawer is via the receipt printer cash drawer port. Buy VB320-BL1616 or all-white option VB320-AW1616 and the CD-101A cable.
For other cash drawer options, please view:
Square Cash Drawer Options Brochure
---
What accessories work with your APG cash drawer?
Please read the options below carefully before purchasing any accessories. We cannot take orders for parts and accessories over the phone.
Listed below are cash drawer accessories that will work with a 1616 Vasario™ Cash Drawer (part number starts with VBXXX-XX1616 as listed above or on the Square brochure). Many of these accessories are offered on APG`s Online Store for those that are not, please contact your local reseller.
To check your drawer part ID – on the bottom of your whole unit, look at the silver label. Watch this video.
Keys + Locks
Find your replacement keys and locks
Under Counter Mounting Brackets
VPK-27B-16-BX
Locking Till Covers
VPK-14B-3-BX (Contact your local reseller)
VPK-14B-6-BX
Tills
VPK-15B-2A-BX
VPK-15B-8-BX (Contact your local reseller)
Cables
CD-101A