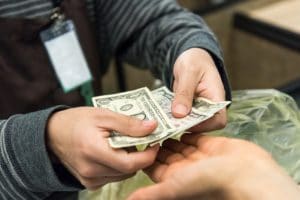 If there's any doubt about the impact of cash management solutions on the cost structure of retailers, consider this recent finding by IHL Group: Replacing manual processes with automation technology can save retailers an average of 200 to 500 labor hours monthly per store.
In a North American study commissioned by APG Cash Drawer, "Cash Multipliers: How Reducing Cash Handling Can Enable Retail Sales and Profit Growth," IHL Group discovered that a lot of time and money is spent on cash transactions at POS stations. The good news here is that cash remains a significant share of overall purchases. Cash accounted for 41.2 billion transactions in 2017 – close to one third (30%) of all transactions.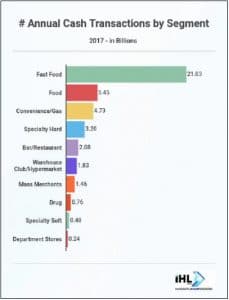 The bad news, of course, is these transactions incur high costs for an industry that operates on razor-thin margins. Depending on the retail segment, cash transactions generate costs of 4% to 15%. Up to 71% of those expenses are related to front-of-the-store activities such as replenishing change at tills and closing out drawers at the end of a shift.
These costs add to the pressure retailers are feeling to improve the customer experience, especially as they try to compete with giants like Walmart and Amazon. The challenge is to add labor hours without boosting costs. "This issue is particularly tough for supermarkets. Not only do supermarkets have the lowest margins of any retail segment, but they also rely on store traffic and impulse items for their profits today," the study says.
Multiple Cash-handling Costs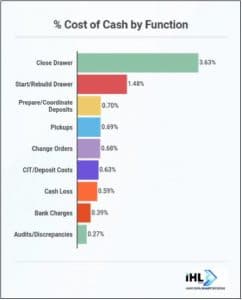 The Cash Multipliers study points out that even as the percentage of cash transactions has shrunk, it remains at a healthy 30%. Even with the recent decreases in cash usage, retailers have not evaluated their cash management methods. The methods of handling cash essentially have remained the same – "how it's counted, how it's audited, how it's delivered to the bank, and how it's recognized in retailer's accounts."
Most retailers, according to the study, don't know their true costs of managing cash because the process involves multiple components and
operating units, making it difficult to keep track of all the associated tasks. Those manual tasks include starting and rebuilding drawers, picking up excess cash from tills during a shift, bank charges, audit discrepancies and recounts, end-of shift closings of drawers and cash shrink. Compounding the issue, higher-paid senior employees and managers usually are the ones involved in cash management. Those duties take them away from other tasks that would have a more direct impact on improving the customer experience.
Additionally, the costs associated with daily or weekly cash in transit (CIT) fees, for replenishing bills and coins and picking up deposits, add up quickly and contribute to the bottom line.
Cash Automation Is the Answer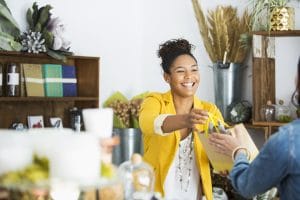 To get cash management costs under control, the study recommends that retailers invest in automation. Available solutions for cash management include intelligent cash drawers, smart safes, cash recyclers and POS lanes with automated cash management systems. By leveraging automated solutions, retailers stand to reduce their cash-related costs by 15% to 80%.
APG's SMARTtill® Cash Management Solution is an attractive option that more and more retailers have been deploying. The SMARTtill® Solution reduces the time dedicated to cash management from hours to minutes, allowing retail staff and managers to spend more time on revenue-generating tasks and the customer experience.