Retail is undergoing a major sea change as retailers reshape the shopping experience. As consumers become more demanding thanks to the conveniences of online shopping, savvy retailers are making strides to replicate – or even surpass that experience – at physical locations. Retailers who make customer-centric decisions, investing in stores, technology, fulfillment and customer service teams will stand to profit.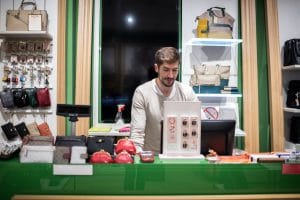 There is a move toward personalization among retailers. This is true for both the marketing of products and for the products themselves. Using data analytics, retailers are marketing to customers based on previous purchases or even previous searches. When it comes to products, online apparel retailers are offering made-to-measure clothing for men and women, ranging from custom fit jeans to custom fit shirts. The "design your own" concept for retail represents a trend to satisfy individual customer`s preferences and needs. Nike capitalizes on this by offering custom designed sneakers, empowering customers to create exclusive, personalized apparel. Online marketplaces are also developing artisans` coops selling unique and creative products are increasingly popular.
Retailers are also investing in a variety of technologies to improve personalization, mobility and the buyer`s experience cross-channels. Many are also interested in improving data security, which has been a focus lately with policies like GDPR and the California privacy law coming into effect, while buzzy topics like AI, AR, VR and robotics are still being explored. As 2019 kicks into gear, we will see some emerging retail trends gain traction and possibly even become a standard business approach. Consider the following five trends:
1. Blurred Lines
To keep customers inside their stores longer, some retailers are blurring the lines that traditionally have separated different sectors, according to an LS Retail report, Retail of the Future. "Pharmacies and dollar stores now sell anything from candy to fresh produce; traditional retailers like Nordstrom, Armani and Urban Outfitters have been opening up restaurants and cafés," the report says. Retailers are even diversifying into industries such as hospitality, as furniture seller West Elm and timepieces brand Shinola, move forward with plans to open hotels.
2. Small and Temporary Stores
Walmart and Whole Foods are synonymous with large spaces, but they`re among an increasing number of retailers experimenting with smaller format stores. The idea is to become more nimble and competitive by opening small, specialty stores. A twin trend to this downsizing is pop-up stores, which the study says are here to stay. "In Europe well-known grocery brands like Lidl, Tesco, and IKEA have opened pop-up restaurants. Globally, online pure-players are launching temporary stores to get in touch with their audience and build brand awareness with specific customer groups." the LS Retail report says.
3. Customer Experience
Savvy retailers are fast learning that it isn`t enough to just sell a product. How and why you sell it is what grabs customers` attention – and that means providing the right customer experience. As the report puts it: "The winners this year and in the near future will be retailers who offer their customers a hospitable atmosphere, knowledgeable employees and a fun, educational time – on top of great products, of course." New technology, customer data and trained staff improve the customer experience which will help drive brand loyalty and profits.
4. Virtual and Augmented
To deliver the best customer experience, retailers increasingly are turning to immersive technologies such as artificial reality (VR) and augmented reality (AR). LS Retail predicts VR and AR in the near future "may be as common and familiar" as cell phones today. And Gartner projects that 100 million consumers will shop in augment reality come 2020.
5. Direct Sales
Thanks to online and mobile technology, just about anyone can become a retailer. While this is bad for existing retailers by creating new competition, it is welcomed by some manufacturers and distributors with strategies on selling products directly to end users. The study cites as examples Google Shopping and online platforms such as Etsy and Amazon marketplace, which give individuals and small companies the opportunity to reach customers worldwide.
Conclusion
As the world or retail transforms itself, so does life in a consumer society. It won`t be long before a lot of retailers will look very different from what we traditionally experience when shopping. Brian Cornell, Chairman & CEO of Target Corp recently stated, "you must always start with the consumer, in every decision that you make. You have got to be willing to invest in both the present business and for tomorrow. Importantly, you have to be willing to reinvest in stores, in digital, in technology, in fulfillment and in your teams. And you have to be willing to disrupt yourselves." To thrive, retailers will have to find ways to stand out and deliver unique experiences – and to accomplish that, they will turn to technology.