Global cash management solution manufacturer to display innovative POS solutions with certified industry partners in New York in booths #2551 and #2451.
FOR IMMEDIATE RELEASE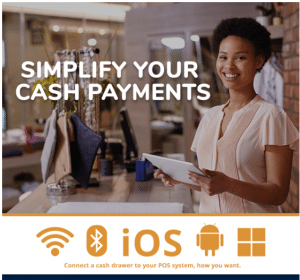 Minneapolis, Minnesota – January 9th, 2019, APG Cash Drawer a global manufacturer of cash management solutions will display its innovative point of sale solutions at the 2019 NRF Big Show in New York City. At center stage in booth 2451 will be the innovative SMARTtill® Cash Management Solution integrated with software partners for retailers across the globe. Attendees can also expect to see APG's general application, mPOS solutions and custom and bespoke cash drawer solutions in booth 2551.
"The retail landscape continues to evolve, and we've identified and developed tiered cash management solutions that address pain points across a variety of retail environments," stated Bob Stone, Global V.P. of Product at APG. "From entry level to robust, to mobile solutions, to fully custom and bespoke cash drawer solutions, our wide range of products is unique in the market allowing us to address a retailer's specification, environment and currency requirements."
"Cash isn't going away anytime soon and continues to be a frequent form of tender, representing 30% of all transactions and 55% of all payments under $10," stated Stephen Bergeron, V.P. of Global Marketing and SMARTtill Business Development at APG. "We understand the cash management challenges retailers face today. Those that choose to leverage automated cash management solutions will reduce cash shrink, reduce labor costs, and improve the overall customer experience," continued Bergeron. "Retailers who deliver their customers a seamless, personalized check out experience, regardless of tender type at the point of sale, will continue to build loyalty and profits. For over 40 years, APG has been committed to developing innovative global cash drawer and cash management solutions to meet the needs of retailers worldwide."
"Attending the National Retail Federation's Big Show is a privilege as it gives us valuable market insights on key retail trends and technology for 2019 and beyond," stated Mark J. Olson, President & CEO at APG Cash Drawer. "As we strive to be our customers' best and preferred choice for point of sale solutions, NRF connects us with new and existing customers, partners, and innovators around the globe to continuously develop solutions to enhance efficiency and security at the point of sale."
APG invites all industry partners, retail customers, friends, and attendees to visit them at NRF in booths 2551 and 2451 to discover their full range of cash management solutions. At NRF, APG will feature integrated SMARTtill® Solution partners Fujitsu, TcPOS and TGCS. Schedule a meeting with us at NRF 2019 to see the latest innovations in cash management technology.
About APG Cash Drawer
APG Cash Drawer, with over 40 years of experience, manufactures a wide range of highly durable and reliable cash drawers that are delivered quickly to the marketplace. APG has built a reputation as the supplier of choice for cash management solutions for retail, grocery, hospitality, and quick serve for thousands of customers throughout the world. Whether it's our general application cash drawer, custom designed solutions, or the SMARTtill® Cash Management Solution, our products and brand are differentiated by our ability to deliver innovative technologies that globally enhance efficiency and security at the point of sale. To learn more about our products, visit www.cashdrawer.com or call at 763-571-5000. Follow us on Twitter and on Facebook.