SMARTtill Solution Drives Efficiency for a Tech Savvy SPAR Store in the UK
Newhaven, UK — 6th November 2018
APG Cash Drawer, a fast-growing global manufacturer of cash management solutions, announced today its new partnership with MSP Systems, a leading EPOS technology provider for the convenience sector in the UK. MSP is now offering the SMARTtill Cash Management Solution as part of their integrated EPOS solution to their customers for smart retailing. This partnership aims to provide small retailers the latest POS technologies to enhance cash handling efficiency in the convenience sector.
"Cash continues to be a strong form of tender with 79% of customers paying by cash according to the latest survey from the Association of Convenience Stores (ACS)," commented Andrew Carr, Managing Director, EMEA at APG Cash Drawer. He continued, "time is a precious commodity for convenience store owners with 20% of them working for more than 70 hours per week and 19% not taking a holiday. New technologies like the SMARTtill Solution with automated cash counts could really add to the bottom line."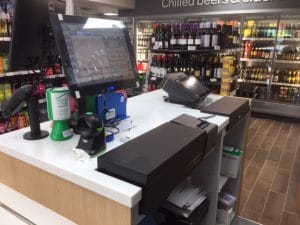 Greg Dockery, Sales Director at MSP Systems commented, "MSP are all about value and quality which makes the SMARTtill Solution an essential part of the MSP sales tool box, enabling us to offer a complete solution to retailers."
The owner of the family-run independent Spar store in Tunbridge Wells was keen to implement innovative retail technologies to the brand-new store to allow him to run his business efficiently, prevent cash loss and win loyal customers by offering a frictionless sales experience. In addition to APG's SMARTtill Solution, the new branch features Nebula software, digital signage, electronic labelling and a tobacco dispensing system.
Andrew Carr said, "with UK retail's recent struggles and ACS' 2018 Crime Report revealing the most common internal theft is from the till, it has never been more important for shop owners to find a way to minimise this ongoing and costly issue. MSP's cutting-edge EPOS solution and APG's pioneering SMARTtill Solution enables real-time cash discrepancy alerts offering a truly efficient loss prevention tool for the busy retailer."
APG and MSP have plans for further collaborations, providing complete, modern retail solutions that offer the convenience store sector the opportunity to future-proof their business through affordable innovation. Click here to read the whitepaper.
About APG Cash Drawer
APG Cash Drawer, with over 40 years of experience, manufactures a wide range of highly durable and reliable cash drawers that are delivered quickly to the marketplace. APG has built a reputation as the supplier of choice for cash management solutions for retail, grocery, hospitality, and quick serve for thousands of customers throughout the world. Whether it's our general application cash drawer, custom designed solutions, or the SMARTtill Cash Management Solution, our products and brand are differentiated by our ability to deliver innovative technologies that globally enhance efficiency and security at the point of sale. To learn more about our products, visit www.cashdrawer.com or call +44 1273 616300. Follow us on Twitter at and on Facebook.
About MSP Systems
MSP Systems Ltd was founded in 2005. It is part of the MSP Group that was founded by Romesh Perera, and has been trading in the UK Retail sector since 1997. The Group has won several highly prestigious retail awards throughout the years. Romesh been a very successful retailer with several retail outlets and many years of experience behind him recognized the need for a Retail system that put the retailer first. Romesh with this retail experience coupled with computer knowledge provided the platform to design an EPOS and Stock Control System with the Retailer as the main consideration. To learn more about MSP Systems visit http://mspsystems.co.uk/.