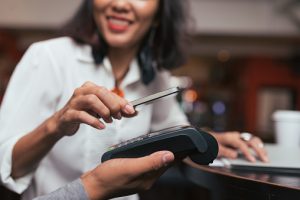 One in five retail purchases under £30 in the United Kingdom these days are completed with contactless payments. Instead of handing cash to a store clerk or swiping a card, shoppers use "tap and go" cards, smart cards or mobile wallet apps through their smartphones and watches to pay for purchases.
In April 2016, The Telegraph reported that use of contactless payments has risen fivefold in the last year. The newspaper attributed the change to a growing adoption of the payment system by merchants and a September 2015 increase in the limit on contactless payments to £30 from £20.
"Increasing the spending limit to £30 has clearly encouraged consumer adoption and retailer opportunity across Britain; families are now able to do their weekly supermarket shopping and pay contactless; the increase has driven a demonstrable shift in consumer behavior," Kevin Jenkins, Managing Director in U.K. and Ireland for Visa Europe, told the Telegraph.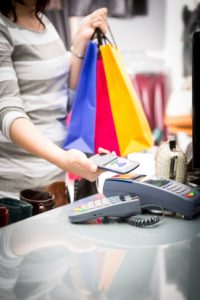 Contactless Payments Don't Replace Cash
While the boost in contactless payments is clearly a sign of the times, as people complete more and more tasks with mobile devices, the question is whether this trend will accelerate the demise of cash. Indeed, predictions that cash will eventually disappear are nothing new, but despite all the movement toward electronic payments, the notion that we are moving toward a cashless society is dubious.
Here's why: Shoppers who pull out mobile devices to pay for a purchase usually are doing that in lieu of using plastic. In the past, they would have used a card with a PIN or EMV chip to complete the transaction. These users were already predisposed to not carrying cash, so to them, moving to a contactless method is a logical next step from plastic.
Payment Card Competition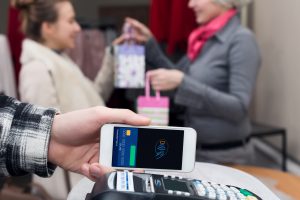 If contactless payments were strictly a cash replacement, why would there be a limit? When you walk into a store and pull out a wad of cash, has any merchant ever said, "We only accept less than £50 in cash?" If anything, you're likely to see a sign somewhere in the premises saying payment by card transactions require a minimum purchase to help lessen the impending card processing fees retailers are required to pay. Furthermore, some merchants and gas stations even offer a percentage discount when a cash payment is presented-an enticing deal for many consumers.
The real competitor to contactless payments is plastic, not cash. This would explain why the £30 limit exists in the first place. If you go over the limit, you'll have to pay with a credit or debit card if you weren't going to use cash, anyway. The point of limiting the purchase amount is to benefit the payment card companies.
Card issuers, it would seem, want plastic in wallets just as much as the cash management solution providers want cash in the wallets of consumers. The logical conclusion here is that despite the repeated prognostications that cash is going away, the reality is we are not seeing that – and it isn't likely to happen anytime soon. Cash-handling technology, therefore, will still be needed at retail stores, and merchants will continue to need cash management solutions for the foreseeable future.