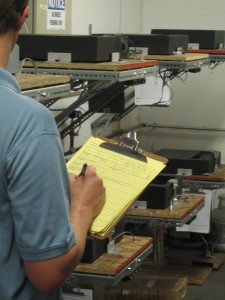 POS VARs are always looking for the most durable, high-quality products they can offer their customers. At APG, our commitment to excellence begins with the design of every product we ultimately build. Once the design is complete we test every cash drawer model to withstand the rigors of the most demanding retail environments.
Our commitment to excellence is to ensure the highest quality and durability. APG opened our current test lab in 2008, and it hasn't stopped running since. To give you an idea of how rigorous our tests are, consider this: The cycle test on a Series 4000 cash drawer, which we certify for four million transactions, takes 218 days. That's more than a half-year — seven and a half months, to be exact. Think about it, a Series 4000 cash drawer spends far more days on a test bed than the average pupil spends in the classroom during the 180-day school year. In 24 hours, the drawers are put through 18,500 cycles (an opening and closing). More than enough to withstand the rigors of your local quick-serve drive-through window.
Cycle testing isn't enough; we put through the paces not only the cash drawer but also the individual components that go into them. We test keys and locks for design integrity. We have an automated test bed that puts the key into the lock, rotates it to the left and the right, pulls it out, and repeats. This test allows us to assess the robustness and durability of the entire locking mechanism.
Beyond keys and locks, we test all other components, including solenoids, slides and latch mechanisms. It's important to test each component because if any one of them fails, it can hinder the use of the entire drawer — and that's something we want to prevent for obvious reasons. A busy fast food owner simply cannot afford to have a POS system fail during peak lunch hours.
On occasion, we will also engage an outside testing lab to test something our lab is not set up for or to validate our testing with a third party. We also test new cash drawer designs in an actual retail environments to see how they fare within a live setting. To also ensure those drawers and components get to their destinations intact, we test the packaging to withstand the rigors of multiple-leg shipments and the heat and humidity from storage and container shipments.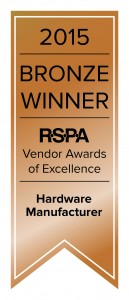 Our lab has 33 active test beds where we test our flip-top and lay-flat products. Recently, we designed tests for our BluePRO® Bluetooth Interface and NetPRO® Ethernet Interface products so that we can be assured that even our interfaces will perform correctly for our customers.
We continuously monitor the testing process to track improvements with daily data collection. We keep detailed test logs and make note of any changes to the data. If we spot a trend in the testing that is inconsistent with our standards, we call a design review to go over the findings and determine what changes to make.
Our commitment to excellence pays off. It keeps you, the retail VAR and integrator, coming back to our products because you know they are reliable and durable. RSPA dealers have told us how they feel by voting us the winner of the Vendor Award of Excellence for Outstanding Provider of Hardware seven years in a row. The award is given during the Awards of Excellence reception at RSPA (Retail Solution Providers Association)'s RetailNOW annual conference.
Receiving awards is gratifying, but more important is the knowledge that our products are held in such high regard. We will continue doing everything we can to meet and exceed the level of excellence you have come to equate with the APG brand today and in the future.