With all the digital currencies and forms of payment now available, it`s understandable that the notion of a cashless society has gained traction since the 1990s when the computerization of manual processes got into full swing. The popularity of smartphones in recent years helped fuel an explosion of digital wallets, giving consumers alternatives to cash and payment cards when making purchases. An increasing number of retailers have adopted these digital forms of payment out of convenience.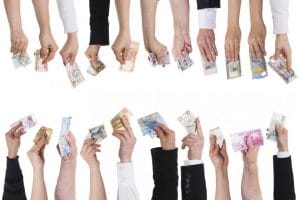 Still, cash remains the most frequent form of payment in the U.S. as of 2018, accounting for 30% of all transactions and 55% of purchases under $10, according to the Federal Reserve`s Diary of Consumer Payment Choice (DCPC). "Because the majority of reported transactions were below $25 in value, cash was the most used instrument overall," the DCPC said. Paying with bills and coins remains commonplace at convenience stores, gas stations, fast-food restaurants, outdoor markets, laundromats, food trucks, and vending machines. Cash accounts for almost half (41%) of fast-food purchases and a third of transactions (33%) at convenience stores, according to IHL.
Even as online commerce continues to expand, 77 percent of all payments occur at physical locations, according to the Fed. "For these in-person payments, cash accounted for 39 percent of the volume." Enough buyers have shown a preference for cash that it is now possible to also pay for certain online purchases in person with cash through the Paysafecash service. Amazon Cash also just launched a service were customers can visit a store kiosk, put in cash and buy products on Amazon without using a credit or debit card.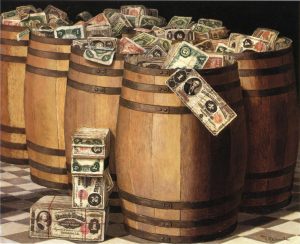 No wonder, then, that U.S. cash in circulation has increased in the last 17 consecutive years. At the end of 2017, an estimated 41.6 billion bills worth $1.6 trillion were circulating. By 2021 it`s projected that $22.7 trillion or 11.2% in cash will make up the U.S. GDP. In Europe, despite a strong movement toward cashless systems in Nordic countries, cash also has demonstrated staying power. At the end of 2017, the total value of euros in circulation was €1,171 billion, with an annual growth rate of 4%, according to the European Central Bank.
Cash remains a strong payment tender in most European countries as it secures and provides the privacy and protection of consumers` information. In 2018, Spaniards committed to spending €254 billion in cash on purchases of everyday goods and remain committed to using cash as a payment vehicle according to the Global Cash Index. This trend continues through Europe, Africa, and Asia, where a large segment prefers using cash as opposed to credit cards and the likes.
Cash is a staple payment mechanism which provides security, convenience, and privacy to consumers and retailers. While there are challenges to overcome for retailers, consumers do prefer this payment method. Thus, retailers that adhere and provide payment mediums that fit each customer profile within the modern retail landscape stand to benefit immensely.