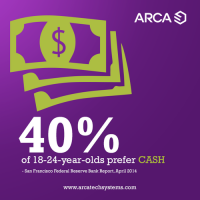 Anyone can pay for anything with plastic, but pulling out a wad of cash from your pocket still delivers a sense of gratification no other form of payment can match. Cash is still king, and if you think plastic and mobile payments are about to displace legal tender, consider this: Cash circulation in the United States has increased since 2000, according to the Federal Reserve Bank of Boston.
As of May 2014, U.S. currency in circulation is a whopping $1.28 trillion, according to the Federal Reserve.
In a recent study, the Boston Fed found that cash transactions range from 46 percent to 82 percent, depending on the country where the transaction takes place. In a different study, researchers found that cash accounts for as much as 40 percent of transactions overall and up to two-thirds of purchases under $10.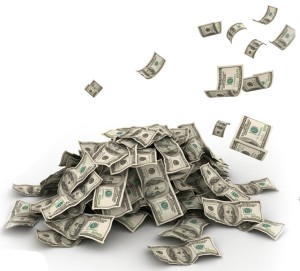 So, no, cash isn't going away anytime soon. It is especially important for convenience stores, small retail shops and eateries that process lots of small transactions daily. Fifty-five percent of U.S. small businesses don't even accept credit cards, according to a 2012 Intuit study.
It's easy to understand why cash still rules. It's fast, simple, direct, and gives buyers the anonymity they can't get with plastic or electronic transactions. Cash also makes it easier to negotiate prices, and even larger stores prefer cash to avoid credit card merchant fees.
Consumers typically pay for big-ticket items such as automobiles and housing-related expenses with plastic or check for obvious reasons, but cash is still the preferred method of payment for food and personal care supplies.
In fact, according to an April 2014 Federal Reserve System report, "cash is the most commonly used payment instrument and … it plays several key roles in consumer spending. All income and age groups use cash in roughly equal frequency, and particularly for transactions valued at less than $10, making cash the dominant payment instrument for very low-value transactions."


What this all means is that merchants still need reliable, efficient cash management as part of their POS systems. And it all starts by presenting clients with cash drawer options. Though it's easy to focus on other aspects of POS solutions when discussing an implementation with a client, cash management needs to be part of the conversation. It's a significant opportunity for dealers and integrators to boost revenue and add value.
The cash drawer remains a fundamental POS component, and as solutions become more flexible and mobile, there are plenty of options for a cash drawer that meets a merchant's specific needs. Drawers come in various configurations with different connectivity options, remote management and security features. Some of these features can be turned into service opportunities for solution providers.
So in discussing POS solutions with clients, don't forget the cash. If you treat the cash drawer as an afterthought, you might be turning your back on revenue.